The Many Laws of Accessibility, Part 2: Laws & Regulations
Published on
In this post, I'll continue my learning about accessibility laws after covering conventions and treaties in Part 1: Conventions & Treaties. I'll cover:
Civil rights laws,
Procurement laws, and
Technology laws (US & abroad).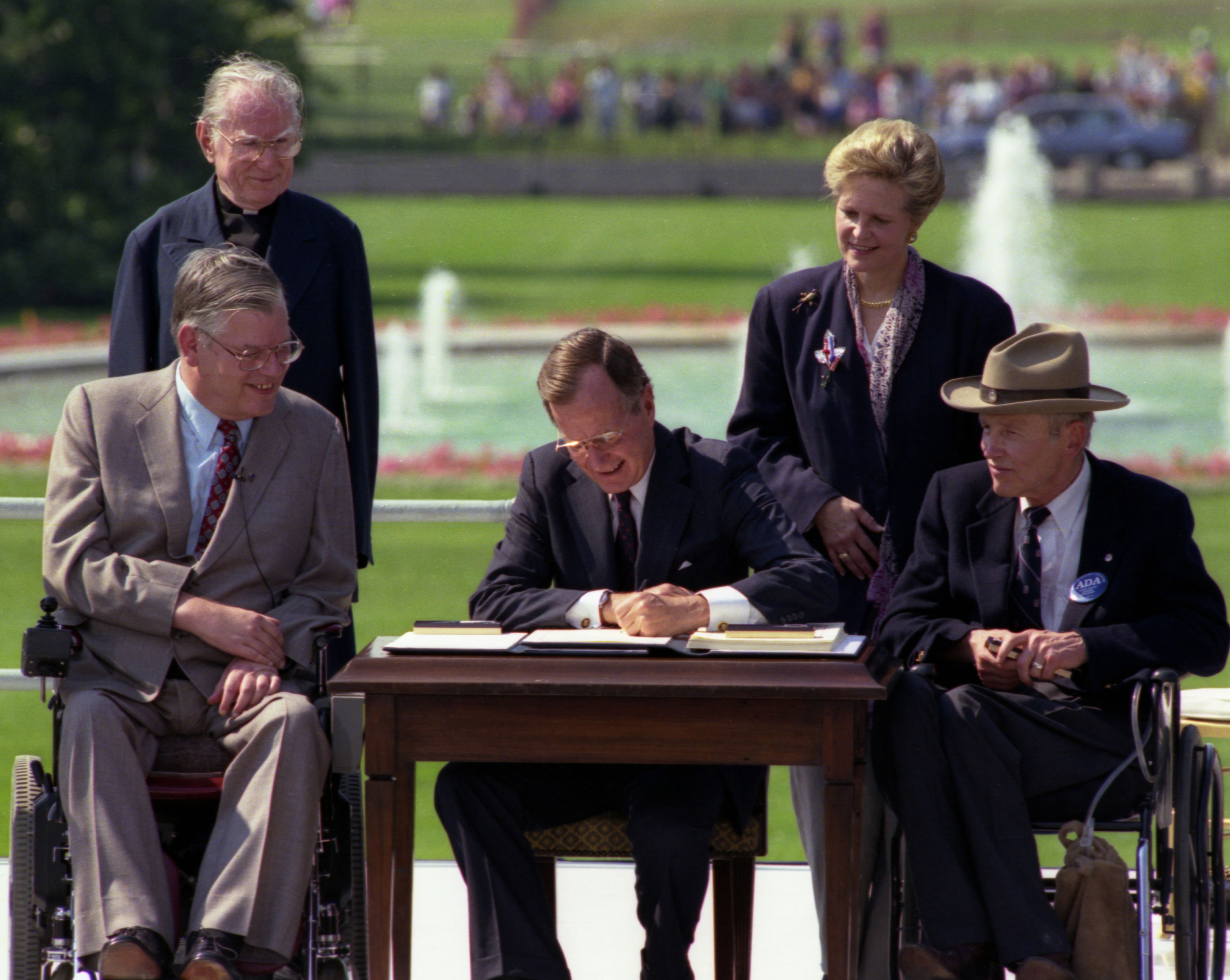 President George Bush signing the Americans With Disabilities Act on July 26, 1990. Photo from Wikimedia Commons.
Civil rights laws exist to secure equal rights for people with disabilities by requiring most public and private institutions to reduce or eliminate the conditions that disable people from participating independently in the workforce, public services, and digital arenas. Some civil rights laws sprouted from efforts of rehabilitation for
disabled veterans. Several countries have moved past defining the generalized rights of humans to target more specific areas, like information and communication technologies (ICT). Civil rights laws provide guidelines on how to meet accessibility, but often they are not actively enforced or monitored. It falls on citizens to file a complaint.
Examples of civil rights laws for people with disabilities, by country:
Procurement refers to the process of government entities purchasing goods and services from external sources. Regulations are set into place on procurement, in order to protect the rights of people with disabilities.
Examples of procurement laws (specifically directed at technology purchases) that protect the rights of people with disabilities, by country:
United States:
States within the US may have their own web accessibility laws, usually applied heavily to government (state, local) and education (K-12, universities).
I'm much more familiar with U.S. law (probably because I'm American), but I want to do better and get acquainted with laws in other countries. I broke down the information I learned from Deque by country.
There is a lot of material to digest here! As I mentioned, the US laws are familiar enough to me, thanks to the past trainings I've prepared for co-workers and others. The gist of several of these laws comes down to respecting human rights, and updating some language of these rights to include modern technologies, including the web. The web is for everyone, and we all should have the right to access services that are provided online.