Accommodation versus Inclusive Design
Published on
While working through the "Universal Design for the Web" section of Deque's CPACC prep course, I referred back to IAAP's CPACC Body of Knowledge and felt like I was missing the beginning of their Part II: Accessibility and Universal Design section. I decided to follow some of their suggested resource links to find out more. Being the slightly over-studier that I am, I don't want to overlook any part that may be on the exam. Not to mention, the topic of accommodating individuals versus designing with inclusion from the start is of interest to me anyhow. Should we be prepared to accommodate? Or should we start earlier in the design process to include more people, which expands beyond targeting just people with disabilities? Accessible design has its benefits, after all.
To fulfill my curiosity, I sought to answer some basic questions...
ADA.gov Title I says that a reasonable accommodation is "any modification or adjustment to a job, the job application process, or the work environment that will enable a qualified applicant or employee with a disability to participate in the application process, perform the essential functions of the job, or enjoy the benefits and privileges of employment." Title I is meant to protect employees with disabilities against discrimination.
Title III of the ADA ensures that students with disabilities have equitable access. Specifically, accommodations for students:
are individualized to emphasize a person's strengths and work around their weaknesses,
require documentation from a licensed clinician or professional who is trained to diagnose the disability,
cannot interfere with the skill or concept being taught, and
provide access to a learning environment to which all Americans are entitled.
Examples of accommodations in the workplace or at school:
conversion of formats, such as textbooks to e-texts
captioning and transcripts for videos
reading a test out loud for a student
large print or braille format
modifying the layout of a workspace
Accommodation is aimed at an individual, on demand, and often requires that a person disclose information about their disability to obtain assistance.
The British Standards Institute (2005) defines inclusive design as: "The design of mainstream products and/or services that are accessible to, and usable by, as many people as reasonably possible ... without the need for special adaptation or specialised design."
According to the Inclusive Design Research Centre (IDRC) of OCAD University in Toronto, inclusive design is: "design that considers the full range of human diversity with respect to ability, language, culture, gender, age and other forms of human difference."
Inclusive design has no formal principles, but the IDRC does chunk inclusive design into 3 dimensions:
Recognize diversity & uniqueness: personalization and flexible configurations are available to create a one-size-fits-one solution;
Inclusive process and tools: diverse designers & consumers;
Broader beneficial impact: curb-cut effect & benefits of accessibility and usability for everyone.
The philosophies of inclusive design and universal design appear to be the same, in which the intent is to make an environment or product usable to as many people as possible. Universal design got its start from architectural and industrial design by people working to make public spaces accessible and usable to as many people as possible. Inclusive design got its start through a product design approach to extend the reach of mainstream products to a wider audience.
Unlike inclusive design, universal design has defined 7 principles to further its philosophy:
Equitable use,
Flexibility in use,
Simple & intuitive use,
Perceptible information,
Tolerance for error,
Low physical effort, and
Size & space for approach and use.
In short, no... inclusive design and universal design are not synonymous. After throwing it out there on Twitter, a few people seemed to agree with this idea: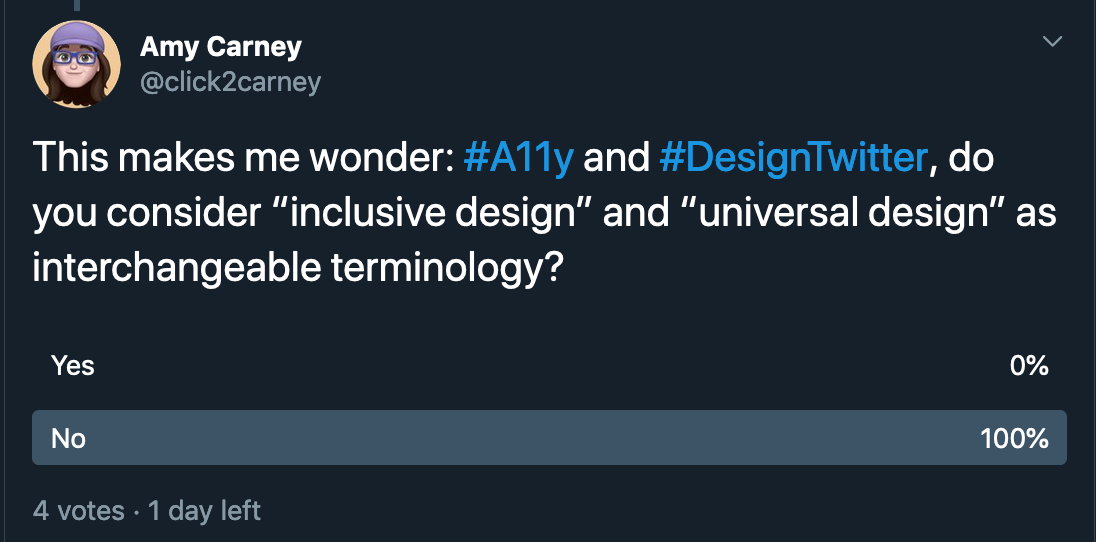 Looking back at the origins of each aforementioned design philosophy, it's clear that physical spaces have to find a "universal" solution (one size fits all) once those spaces are built. In digital spaces, we have the flexibility of taking the "inclusive" approach to tailor our product so that one size fits one. With that flexibility, we, as designers and developers, can broaden our constrained view of disabilities and open up possibilities for anyone who may have a hard time accessing our product for whatever reason; no documentation of disability required. In essence, accessibility is a match between the design and an individual's needs.
When it comes down to it, inclusive and universal design can save time and money. Accommodation as an afterthought is often more expensive, though sometimes a necessity in specific circumstances. There are so many flexible processes that can be part of the design process, like captioning and good web markup, that can remove the need for on-demand accommodation and benefit a wider-than-intended audience. As the famous line from A Field of Dreams says, "if you build it, they will come." Find your balance between inclusive design and accommodation, and you'll find that your audience will appear.