Day 1: Initialization and WCAG Introduction
Published on
And here I go! To start off my journey to earn my Web Accessibility Specialist certification, I had to get myself in gear, get organized, and just start.
Launched this blog to make myself accountable to commit daily to web a11y study.
Set up a Google Calendar to keep myself on track to complete 80% of study materials by March 10, 2019, and beyond to April 3rd, when my exam happens.
Read through WCAG 2.1 introduction (non-normative).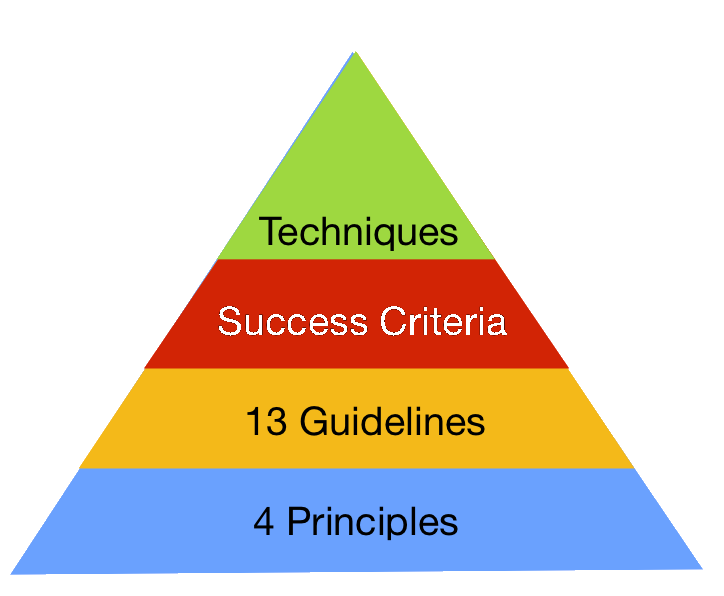 WCAG layers of guidance include:
WCAG 2.1 updated 2.0 to be more inclusive of:

users with cognitive or learning disabilities,
users with low vision, and
users with disabilities on mobile devices

17 new success criteria were appended to WCAG 2.0:

1.3.4 Orientation (AA)
1.3.5 Identify Input Purpose (AA)
1.3.6 Identify Purpose (AAA)
1.4.10 Reflow (AA)
1.4.11 Non-Text Contrast (AA)
1.4.12 Text Spacing (AA)
1.4.13 Content on Hover or Focus (AA)
2.1.4 Character Key Shortcuts (A)
2.2.6 Timeouts (AAA)
2.3.3 Animation from Interactions (AAA)
2.5.1 Pointer Gestures (A)
2.5.2 Pointer Cancellation (A)
2.5.3 Label in Name (A)
2.5.4 Motion Actuation (A)
2.5.5 Target Size (AAA)
2.5.6 Concurrent Input Mechanisms (AAA)
4.1.3 Status Messages (AA)

An overhaul of WCAG is coming in a few year. In the meantime, 2.1 is the current recommendation, and 2.2 will be recommended shortly after that, before the new changes happens.
---